Text: Matthew 3:13-17
Gospel Reading for The Baptism of Our Lord, Series A
The sermon illustration is borrowed from Rev. Bryan Wolfmueller.
Grace to you and peace from God our Father and the Lord Jesus Christ. Amen.
Through John's Objection
It's safe to say that John the Baptist was as surprised as we are. Or at least, as surprised as we should be if we read this passage without knowing what's coming. Approximately thirty years have passed since Jesus last appeared in Matthew's gospel. He was but a toddler then. With little fanfare Jesus suddenly bursts upon the scene in this text. He is grown to manhood and seeks a baptism from John.This is his great epiphany; his manifestation to the world. But, if John had been running the show it might never have happened. The question before before us this morning is this: Why was Jesus baptised by John? Why does he accept a sinner's baptism?
John preached a baptism of repentance for the forgiveness of sins. He had proclaimed: "The Messiah is coming! He's more powerful than me! He will baptise you with God's Spirit and God's fire, not just water! He'll sort you out—he'll clear out the mess—he'll clean up God's farm so that only the good wheat is left! I'm not even worthy to unite his shoes." Jesus came and stood humbly before John, asking for baptism. Jesus deliberately chose to accept John's baptism. He choose to share the penitential mood of the rest of Judaea, Jerusalem and Galilee. Jesus chooses to identify with the people who are themselves facing God's judgment and needing to repent.
John, of course, is horrified. When Jesus came to John to be baptised, John tried to stop Him. It seemed upside down to John. The lesser should be baptised by the greater. The servant should be baptised by the master. What's happened to the wind and fire, to the clearing out of God's farm? This is why he completely objects to Jesus being baptised. But, how does John look and sound when telling the Messiah that he's dead wrong? John's argument is impassioned. "I need to be baptised by you, and do you come to me?"
John is right of course. John is saying: This Jesus is no common man. Jesus, John says, is not a sinner in need of repentance. Jesus is the sinless Son of God. He is the greater one, great David's greater Son. Instead, John recognises that he was far beneath Jesus. John confesses his own sinfulness, and places himself right alongside those multitudes whom he baptised. John is willing to take his own medicine. It would be truly fitting indeed for John to be baptised by him. The sinner should be baptised by the Sinless One.
By Becoming our Substitute
Jesus responds by saying, "Let it be so now: for thus it is fitting for us to fulfil all righteousness." Jesus fully agrees with John's assessment of the situation. Nevertheless, he says, let's do it just this once. He says they're doing it, "to fulfil all righteousness" Righteousness is God's commitment to keep his promises. His righteousness not only condemns and punishes, but it also delivers and saves.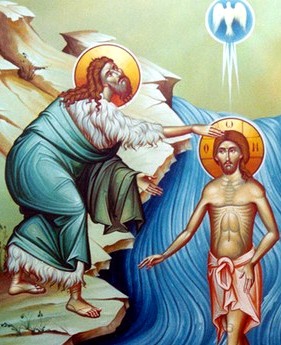 Jesus says he wants to "fulfill all righteousness," which is to say that the time has come for God to begin to make good on his promises. He is coming to fulfil God's plan, the promises which God made ages ago and has never forgotten. Yes, these are promises about the coming of God's just judgment on evil wherever it occurs, and promises of rescue for God's repentant people once and for all, from every kind of evil to which they have been enslaved. But how is Jesus going to do all this? He starts by humbly identifying himself with us, by taking our place, sharing our penitence, living our life and ultimately dying our death. How does he begin this work? Through John's baptism.
Imagine a huge flock of sheep all gathered on the bank of the Jordan, pressing toward the water. One by one they go down to John, standing there in the river. Now these sheep are filthy, disgusting, covered in filth and black smudge. They have burrs and thorns caught in their wool, and they are ragged, nasty looking sheep. That's you. That's me.
And as these sheep step into the water and John pours water over then and says, "I baptise you for the forgiveness of all of your sins," then all of the muck and filth washes off of these sheep, these lambs, and they walk out of the other side of the river pure, white, gleaming. Sheep after sheep comes into the water, and all of the dirt and blood is washed off. Sheep after sheep is washed clean, while the water is covered, like a swamp or an oil spill.
Now imagine that in the middle of all of these dirty disgusting sheep there is one sheep who is white, gleaming, stunning to look at. This Lamb is without spot or blemish, perfect in every way. And now this perfect white woolly Lamb comes to the edge of the water, and John sees Him, and tries to prevent Him coming into the filth, saying, "I need to be baptised by you, and do You come to me?"
But this perfect Lamb answers, saying, "Let it be so now, for thus it is fitting for us to fulfil all righteousness." So this perfect Lamb steps into the water, and as He does all the filth and muck and stain and thorn and dirt and blood that is swirling around on the water is absorbed onto Him; His wool is saturated with your uncleanness and my unrighteousness. All of it. And this Lamb walks out of the river bearing all the filth of all the sheep of all the world. And now the water is clear and pure.
And there is John, in the river, and He points to this Sheep and says, "Behold the Lamb of God, who takes away the sin of the world." This is Jesus, who knew no sin, the One whom God made to be the sin offering for us. "Surely He has borne our griefs and carried our sorrows." [Isaiah 53:4]
Brothers and sisters, in this image we have the baptism and the death of Jesus and our baptism all wrapped up together, how they should be. For the baptism of Jesus is the first step on the road that ends at the cross, and at Jesus' cross He fills up the promise of the forgiveness of all sins, the gift that baptism gives to us.
This baptism signals the start of something big for Jesus. This is Jesus' "ordination," the beginning of His public ministry which begins with the Father identifying Him as the beloved Son and the Spirit descending upon Him. Here we see the Trinity at work: Father, Son, and Spirit. Jesus' mission and ministry is to bring the kingdom of Triune God, to usher in the new age of the messiah, to defeat Sin, Death, and devil, to bring eternal life and forgiveness of sins, to rescue fallen humanity from its captivity to Sin and Death, to be the second Adam, the new head of humanity, to fulfill the Law with His perfect obedience, and to become the Sin offering for us, to bring in a new creation, making all things new in His death and resurrection.
Jesus' Baptism was a necessary part of His being the Saviour from Sin. This is how Jesus is revealed as our true saviour. As God's Sacrifice, He needed washing, as all sacrifices were washed. The Lamb of God who takes away the sin of the world was being prepared for His offering in our place. He is the stand-in, the substitute, the One who offers His life in place of ours, blood for blood. But this washing was different. He was already pure. But He was washed in our sins so that we might be washed from our sins.
The baptism that Jesus stepped into was a baptism for sinners. Prostitutes and scoundrels and all manner of "sinners" were coming to John wanting to be cleansed from their past and their sins. Jesus had no sin of which to repent, no past that needed cleansing. He was sinless and holy. In being baptised, Jesus joined Himself in solidarity with those same sinners, with all of sinful humanity, with you. "I'm with them!" He assumed our penalty and paid back to God what we owe. In His Baptism, Jesus assumed our place, the place of the adulterer, the thief, the murderer, the gossip, the liar, the idolator. He has assumed your sin, and paid for it by his death, so that you might be united to Him in His death and life. He became the sin offering for the world, so that the Sin of the world would be nailed to His cross and buried in His grave. In His Baptism, Jesus joined Himself to us in our death; in our Baptism we are joined to Jesus in His death. And if you're joined to his death by baptism, your tomb will be empty, just like his. '
The peace of God which passes all understanding, keep your hearts and your minds in Christ Jesus. Amen.